Missions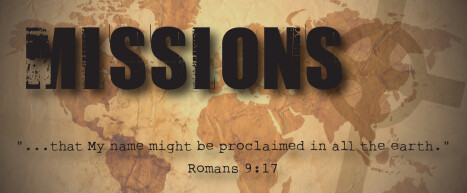 Taking the good news to the world of God's desire to have a personal relationship with each of us is primary at South Reno Baptist Church (SRBC). We want to be part of reaching our community, state, nation, and the entire world with His message of love, grace and redemption. Everyone at SRBC is encouraged to be involved in all of our mission efforts by being a Player (Volunteer), Prayer (Pray) &/or a Payer (Finance) in being "On Mission With God"!
South Reno Baptist Church has an active Missions Team chaired by Dave Strege. Your Team welcomes your questions or input, simply contact any one of us:
Kira Ewoldt ( .edu)
If you are interested in being part of this mission team, please contact any of our members for more information.
Local Missions
In addition to inviting friends and neighbors to church, South Reno members are involved in a wide variety of local mission efforts. There is a place for everyone to serve.
As just a small sample of activities: our Youth have led Bible School activities in local neighborhoods; we conduct children's programs and tutoring in less advantaged areas; knit and crocheted items are made for local hospitals and the homeless; coffee, donuts, and clothing items are shared with the unemployed who gather at Galletti Way. There are several dozen South Reno Baptist Church groups reaching out on a local level.
Your local missions team is always looking for new ways to spread the gospel as we reach out to help our northern Nevada neighbors. If you have suggestions, please contact Meredith.
For Local Mission New Projects, please contact Meredith Meiling at
For Current Projects, please contact Dave Strege at
State Missions
South Reno Baptist Church partners with other Southern Baptist Churches in need throughout the State of Nevada.
Youth and adult crews repaired and painted the Round Mountain parsonage and installed new appliances.
Also, SRBC teams have assisted with modular home repair and refurbished Yomba Baptist Church on the Shoshone Indian Reservation at Yomba. In September 2018, members led by Rixey Jenkins constructed much needed decking. All work at the parsonage was done to support efforts in attracting God's pastor and making it livable!
National Missions
Mission projects such as one where South Reno Baptist Church Team traveled to one of the most economically depressed counties in our country, in Kentucky, to staff a local church's Vacation Bible School and free community restaurant, assist with an adult day-care facility, provide quarters and soap at the county laundromat as they shared Christ, rebuild and repair damaged homes, reach out to the unsaved, and worship with local believers. We pray and seek for opportunities to join together in meeting needs across our blessed United States of America.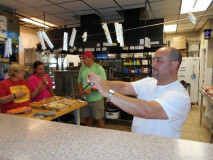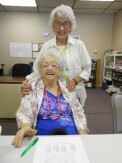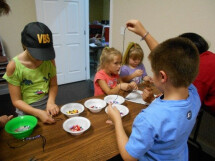 International Missions
In addition to supporting the Southern Baptist Cooperative Program, which underwrites missions/missionaries worldwide, South Reno Baptist Church has consistently sent medical and/or Vacation Bible School/outreach teams to Cambodia, Peru, Venezuela, Uganda, and Costa Rica since 2006. Opportunities are available to those seeking to follow Jesus' command to share His love and promise.
CAMBODIA: Recently, our medical team ministered in Cambodia from Jan 5 -> 15, 2019. The team was made up of 5 medical personnel and 6 evangelism/support staff (check out video/photos at the Spot on Missions table). God blessed the team as they were able to reach out to 124 villagers and witnessed 6 believers share their testimonies thru baptism. Planning is currently underway to have 2 medical missions trips in April and November of each year, beginning 2020, which will greatly enhance the villagers well being to carry out His work. Contact Mark Della ( ) for more info.
PAKISTAN: We also are supporting an IMB missionary family in Pakistan and will be exploring the possibility of sending a small team to that region to assist in their ministry. Please pray for God's will as we plan for our further involvement in His work in Pakistan. To find out more, Contact Joe Savage ( )
PERU: We currently have an ongoing relationship with our IMB missionaries in Peru. We have been sending teams to Peru since 2009. Most recently we sent a team of missionaries to evangelize during the Pan Am games in August of 2019. They ministered in the areas of music, youth activities, and medical screenings.
We are currently working on 1-2 trips to Peru per year, including a youth trip and an adult trip. For those of you interested in and are being led to participate in His work in Peru, contact Rixey Jenkins ( )
VIETNAM: Work is underway to find ways to open doors and reach out in this new missions field. One approach being pursued is the "Teaching English as Second Language" project. For those of you who are curious about this missions opportunity, contact Dave Strege at

SPOT ON MISSIONS:
When you visit South Reno Baptist Church, stop at our "Spot on Missions" table in the foyer to view videos/pictures of missions at work, borrow a missionary-focused book from our lending library, pick up mission-related literature and get to know our mission team members. If you borrow a book, please remember to return it after you are finished with it.
Our Welcome Desk also has a rack of pamphlets describing the many activities and groups that reach out to our community.
For Spot on Mission table suggestions/questions please contact Dave Strege at
We regularly assemble "blessings bags" for the homeless population. These bags are usually provided during the winter months, and are found in boxes in the lobby for members of the congregation to take and distribute.
In addition to mission projects, South Reno also encourages your prayers and financial support of these local ministries:
Hosanna Home - Hosanna Home provides food, shelter and rehabilitation services for abused and addicted women. This organization serves women who would be considered lost and unreachable by other programs. Through your giving we provide financial support, and church volunteers offer their time to help staff Esther's Closet, a thrift store that is part of the Hosanna Home program -775-232-5416 (https://hosannahome.org/)
Compassion Dental -Compassion Dental provides free dental services to the low income and uninsured population of northern Nevada. This organization is currently seeking Christian drivers and other volunteers to take patients to their appointments. Often CD's patients do not have transportation and by fulfilling this need we have an opportunity to spread the gospel. 775-358-8913 (https://compassiondental.org/)
Crisis Pregnancy Center - Crisis Pregnancy Centers are located in Reno and Fernley. In addition, CPC is starting a Christ-based adoption agency, Real Choices, in south Reno. Through its programs CPC provides an alternative to abortion, pregnancy testing, a "Daddy Academy" to support expectant fathers, and programs to serve new mothers with equipment, clothing and above all, love.775-826-5144 (renocrisispregnancycenter.com)
Reno/Sparks Gospel Mission -The Reno-Sparks Gospel Mission serves the homeless of Reno with food, shelter and a 13-month long rehabilitation program providing its residents with physical, spiritual and emotional support. The Journey Church is the RSGM's in-house church serving its residents and other locals. RSGM's graduates are transformed through classwork, job training and the spiritual tools that only a church can provide. South Reno Baptist Church cooks and serves hot meals once a month at the mission, benefitting the homeless but also richly rewarding our volunteers as well. 775-323-0386 (https://rsgm.org/)
UNR International Student Ministry - 775-560-4252 (http://www.internationalreno.org/)